In cases where you have a Manufacturer who wants to begin engaging with MarketTime and managing their data on your behalf, there are two steps you can take to add their account to your Agency, and merge your existing listing (and it's order history) into theirs if needed!
Adding their Manufacturer Account to your Agency
To add a new Manufacturer, use the New button found on the Manufacturers screen:

When adding a new Manufacturer, enter in their name or Manufacturer ID (provided to you by the Manufacturer) into the Search field.
If the Manufacturer you're adding is already a member of MarketTime, they will appear as an option to select when searching. If you do not see them listed in this manner, reach out to support@markettime.com to have them assist in linking the Manufacturer to your Agency.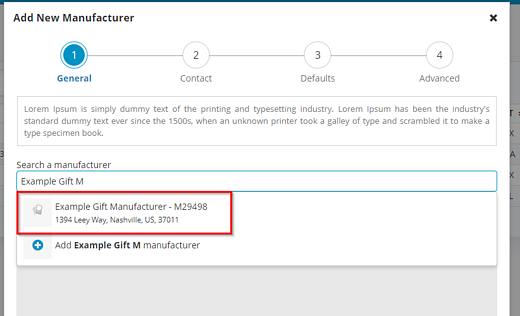 Choosing that entry will allow you to add them to your Manufacturers, which will then send a request to that Manufacturer to approve. Some information will not be editable as it's managed by that Manufacturer.
Consolidating Manufacturer Listings
Once you've added the Manufacturer to your Agency, you'll likely see two listings on your Manufacturers screen.
On the Manufacturers page, begin by clicking on the Transfer button above your Manufacturer list:

In the resulting window, you will choose which Manufacturer the data will be coming from and who it will be going to.
Checking the Transfer Account Numbers checkbox will also move any Bill To/Ship To account numbers for any associated customers.
To continue, click the Transfer button.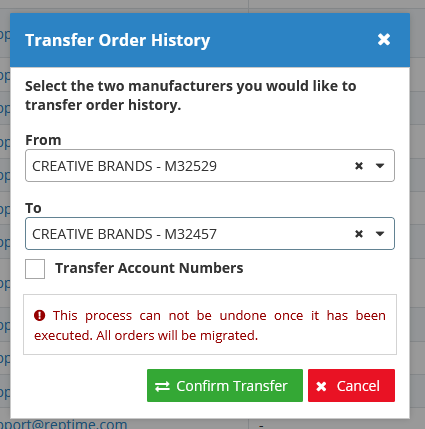 You will be asked to confirm the transfer.
This action can not be undone. Please be sure you've selected the correct Manufacturers in the correct order.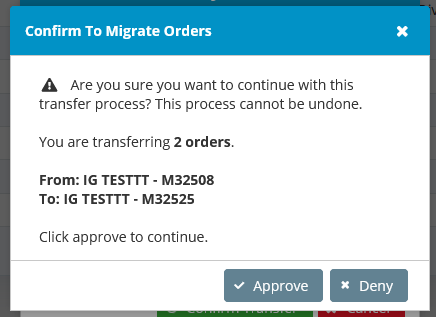 Once the transfer is complete, you will have three options to choose from.
Keep Both- This will leave the copy of the Manufacturer with no order history untouched, and will still remain in your Manufacturer list.

Delete & Close- This will delete the Manufacturer you've removed order history from. THIS ACTION CAN NOT BE UNDONE!
Deactivate & Close- This will un-link the vendor-managed Manufacturer account from your company, leaving only your "copy".