If you are currently a Manufacturer who uses Stream to receive orders, and you have agencies on the MarketTime platform who you wish to have orders delivered to Stream, the information below will be helpful.
---------------------------
TABLE OF CONTENTS
Things to Know before Making the Switch
---------------------------
Things to Know before Making the Switch
The four points below are things you must understand and acknowledge before we enable order delivery from MarketTime to Stream.
1. Enabling delivery to Stream is immediate, and NOT retroactive; it only affects orders going forward.
No past orders will flow into Stream.
2. Be sure you've wrapped up any order management or credit card retrieval before allowing us to make this switch. Once delivery to Stream is enabled, access to previous orders in MarketTime (including any credit card tokens) will not be accessible and will only be viewable on the Orders screen.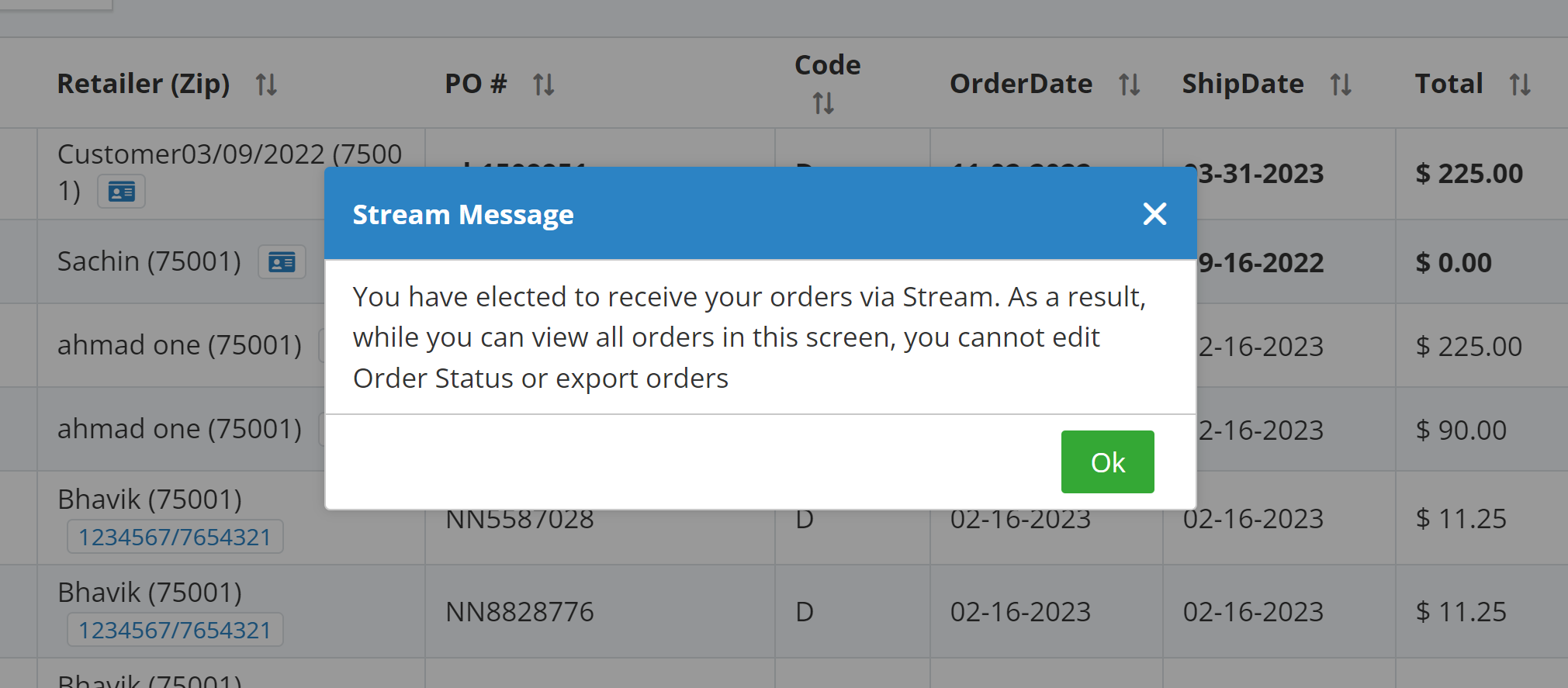 3. If you're using mtCharge or a third-party payment gateway in Stream, this will be applied to all future orders that originate from MarketTime agencies and will be attached to orders as they flow into Stream. Payment processing for all orders will now be conducted within Stream.
4. If you use Promotion Codes, they will not currently flow into Stream as Brandwise orders do. They will be in the Notes section of the order, as MarketTime does not support Promotion Codes as this time.
While the actual switch to Stream delivery is quick, It's highly recommended to schedule this switch with us to allow your team time to retrieve any lingering MarketTime orders.
Please reach out to sales@markettime.com for more information.
Account Numbers/Data Mapping
If you are a Manufacturer who requires Account Numbers for each customer or have Data Mapping enabled within your Stream account, there are some important things to know.

1. If an order comes through without an Account Number or specifically-mapped data fields (Payment Terms, Shipping Terms, etc.) that you would typically expect this information on, or have previously received orders from, you may need to map this data using the Data Mapping feature within Stream a single time for each customer, so future orders will be mapped.
This will depend on the Agency having previously maintained their customer records with your Account Numbers on them.
2. If you wish for the Agency to take the action to ensure Account Numbers are present on an order before the order is sent to you, you may enable this feature within your MarketTime account.
Order Statuses
Order Statuses in MarketTime will update according to the step of the process the order may be in, or the action that needs to be taken. These are displayed to Sales Agencies/Salespeople who have access to the order so they're aware of where the order is in it's journey.
| | | | |
| --- | --- | --- | --- |
| Manufacturer Status | Stage | Frequency | Notes |
| OPEN | Waiting to be picked up and Staged into Stream | Three times an hour; 00:00, 00:25, and 00:45. | After being transmitted, the order can't be edited in apps.markettime or in mobile app. |
| RECEIVED | Staged in Stream; Attempts to insert into Stream | Every 20 minutes | Order can be edited in apps.markettime and in mobile app, but changes will not be sent to Supplier. Salesperson must notify the supplier of any changes. |
| PENDING | Order has been inserted into Stream, requires mapping | | Considered a "Dirty" order in Stream and requires mapping before it can be batched, goes back to RECEIVED when mapped. |
| PROCESSED | Order has been delivered | | |
| ON HOLD | Order has been temporarily suspended in Stream | At will | This is done by the supplier within Stream |
| CANCELLED | Order has been permanently suspended in Stream | At will | This is done by the supplier within Stream |