The Spotlight Sales App supports most standard Bluetooth iOS compatible scanners. For pairing instructions, please see your scanner's instruction guide.

Recommended Pharos Scanners:
Eyoyo 1D Bluetooth Wearable Ring Barcode Scanner

Pros: Sits comfortable on finger, rechargeable, medium priced, 10 hour battery, 4 hour charge
Cons: Only Supports 1D barcodes
Motorola CS3070 Bluetooth Scanner

Pros: Smaller, internal rechargeable battery (charges with USB cable)
Cons: Only supports 1D barcodes, needs to be charged, pairing sequence with the iPad can be cumbersome.
Socket Mobile SocketScan S730 or S700

Pros: Supports 2D scanning, rechargeable and replaceable batteries
Cons: Most expensive

Please note the scanner set up procedure is not always the same for different model numbers, even if the models are made by the same manufacturer, so it is important to make sure you are using the correct setup procedure for the scanner model you are using.


Scanner Requirements
Bluetooth enabled
1 Dimensional (1D) for scanning traditional barcodes
2 Dimensional (2D) if you wish to scan QR Codes
Programmable button to toggle the onscreen keyboard on/off
Pro Tips
- Rotating the screen will disconnect bluetooth scanners! Ensure the iPad has the orientation locked to either landscape or portrait to prevent the screen from rotating. Swipe down from the top-right corner of the screen then tap on the lock icon ... Rotation Lock: On
Common Questions
How do I choose between my bluetooth scanner vs camera scanner?
Using the bottom navigation icons, choose Options (sometimes under the More icon), scroll to Scanner, tap the i icon to display & choose your options
While on my Shopping cart, why won't my bluetooth scanner work?
After you have ensured your scanner is connected to your iPad & the Bluetooth option is set (see above)
At the top of the cart, near the shopping cart icon...check the scanner icon..if you are using bluetooth scanner, ensure the proper icon is set
icon represents the camera scanner
icon represents the bluetooth scanner
Ahh! My keyboard has disappeared!
Not to worry, keyboards will hide when most bluetooth scanners are connected.
Tap the keyboard option icon, then the show keyboard option (3rd icon)
To have the keyboard reappear, for most scanners, double tap your scan button.
If this does not work, please refer to the manual that came with your scanner.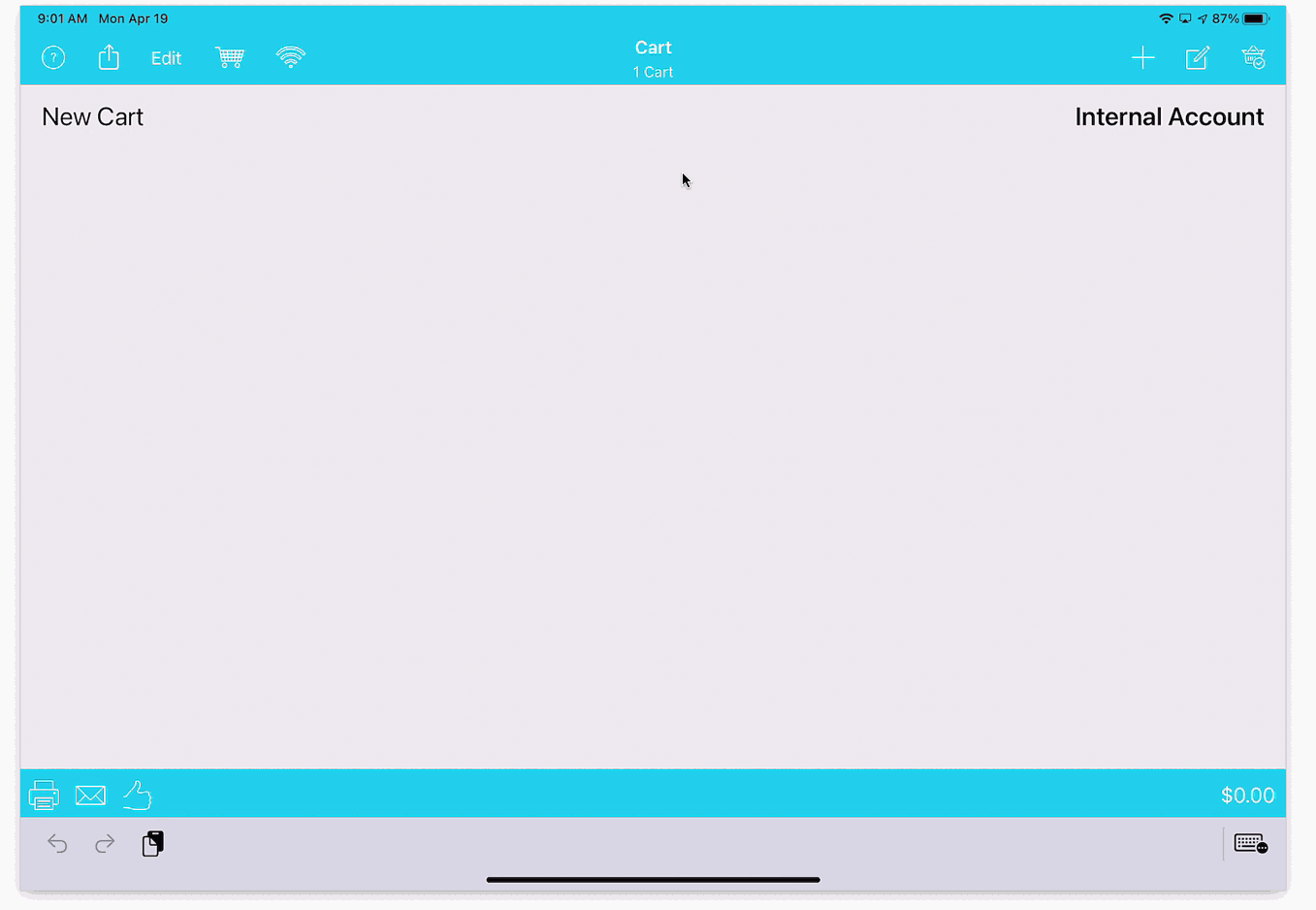 Ahh! My bottom icons have disappeared!
Tap the keyboard option icon, then the show keyboard option (4th icon)
Ahh! My Socket Mobile SocketScan S730 or S700 is connected but won't scan for some reason?
You may have to factory reset your scanner. Ensure you use the "Basic Mode (HID) (default)" mode when initially pairing your scanner. See attached user guide page 4.