Below is useful information to know when split screening.
To the left of the divider are the apps you have pinned to your 'App Bar'.

These app will always stay in the App Bar until Unpinned
Pinned Apps can only be found under the App Bar. They will not be found on any of your iPads app pages.

To the right of the divider are the 3 most recently visited Apps you have been in.

These apps are not pinned to the App Bar and will change based on which apps you have most recently visited
Pinned Apps will NOT also populate on the recently visited side of the App Bar. Only Unpinned Apps will populate here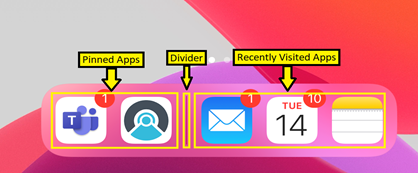 To Split Screen, please follow the below steps:
1) While within the Pharos App, tap on the little black bar at the bottom of the screen and slide it up slightly to populate the App Bar:
Please ensure you have either pinned or recently visited whichever app you wish to copy the Customers information from (ex. Notes)
2) After pulling up the App Bar:
Hold and drag the app (Notes) you wish to split screen, up and away from the app bar:
You can drag and release the app on either side of the Pharos app to split screen:
Once you have dragged and released the app to the desired location, you will see you can access and navigate both apps that are not split screened:
3) Now that you can access both apps at the same time, you can now easily copy and past the customer billing information you need.
4) Once you are done and no longer need both apps open, simply slide the app you wish to keep open to full screen:
Below is also a recording of how to Split Screen: