Sales Agencies that have access to the MarketTime Pro app can mange or request their MarketTime Pro licenses.

For more information or to request access for your agency, reach out to sales@markettime.com
--------------------------
TABLE OF CONTENTS
Requesting Additional Licenses
--------------------------
Found under the Settings option in the navigation menu, MarketTime Pro is the screen you'll use to mange this information.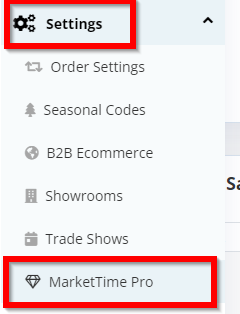 When first visiting this screen, you'll be greeted with empty licenses that match the number your company was allocated.
Managing Licenses
Begin by using the Edit icon next to a license:



You'll now be able to assign a User (1) and default Order Code (2) for this license:




NOTE: The names you see in this drop-down are the First and Last Names of the user account associated with people within your agency (Salespeople, Admins, etc.). Keep this in mind when assigning "Temp" or "Showroom" type users to licenses if your company utilizes records like this.
When finished, be sure to click the green checkbox to confirm your selections.

Show Mode Toggle


To enable or disable Show Mode, simply toggle the option next to the desired license(s).



When Show Mode is enabled, this allows the user associated with the license to see ALL Customers and Manufacturers within your Sales Agency.
As it's name suggests, this is typically reserved for use during tradeshows to allow users access to out of territory data to write orders.
Request Additional Licenses
Finally, you may request additional licenses using the Request Licenses option. Simply enter in the number of additional licenses needed, and MarketTime will approve licenses and adjust billing accordingly.