The MarketTime Pro app for iPad allows Salespeople to have all the powerful tools and features of MarketTime on the road! This article covers the basics of setting up the MarketTime Pro app.
---------------------------
TABLE OF CONTENTS
Switching Between Sales Agencies
User Information/Default Settings
---------------------------
Device Requirements
The MarketTime Pro app is only available for Apple iPads. Device requirements can be found below:
The app can be found by searching for "markettime pro" on the App Store.


| | |
| --- | --- |
| iPad Model | iOS Version |
| 7th Generation iPad or higher | iPadOS 16 or higher |
Recommended Barcode Scanners
While any traditional Bluetooth barcode scanner should work with MarketTime Pro, below is what we generally recommend.


| | |
| --- | --- |
| Name | Amazon Link |
| Symcode 2D Finger Scanner | CLICK HERE |
| | |

NOTE: MarketTime does not support or troubleshoot third-party hardware or software applications such as barcode scanners, printers, etc.
App Setup
Once the app is downloaded, you'll be asked to login with your MarketTime credentials. If you've forgotten your password, navigate to https://apps.markettime.com/forgot-password to reset it.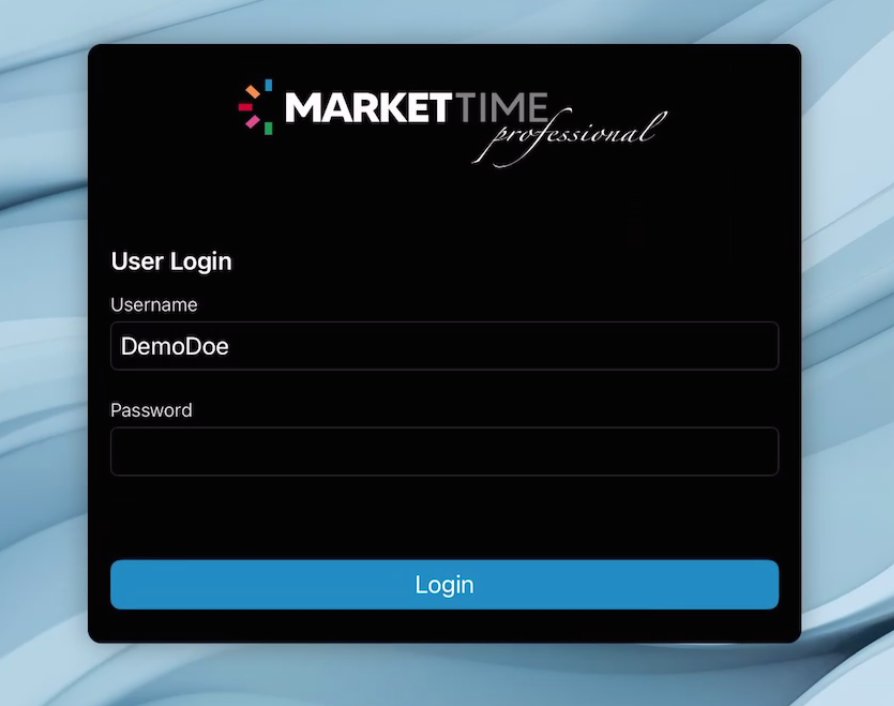 Once logged in, select the Sales Agency's data you wish to download and click Download Data.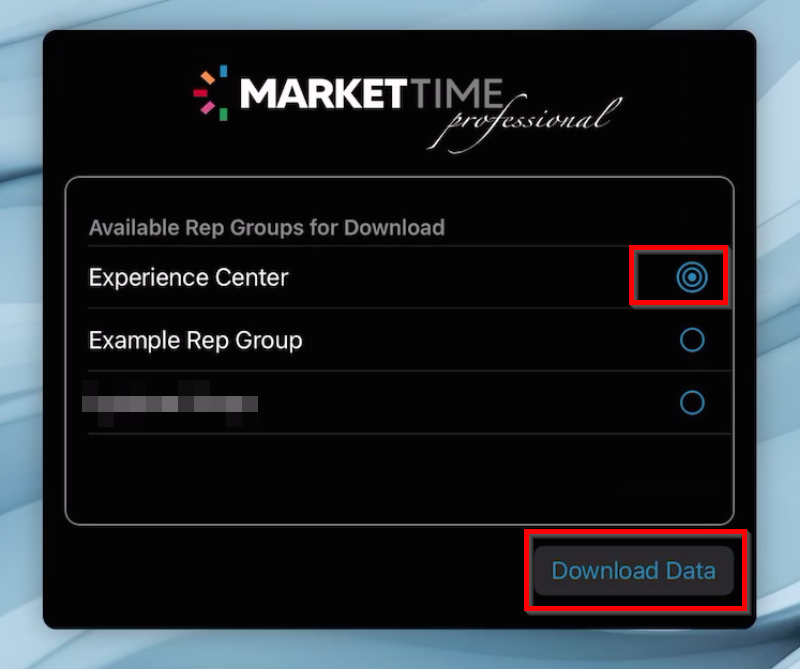 NOTE: You'll only see Sales Agencies your MarketTime user account is associated with. If you are missing a Sales Agency or see a "No License Available" message, please contact your Sales Agency Admin to assign you a license.

If you have more than one Sales Agency don't worry, you can download the data for the others at a later time.
Once the app has completed the sync, you'll be shown an informational page with your name, the Sales Agency chosen, and device/license information.
Click Get Started to proceed into the app.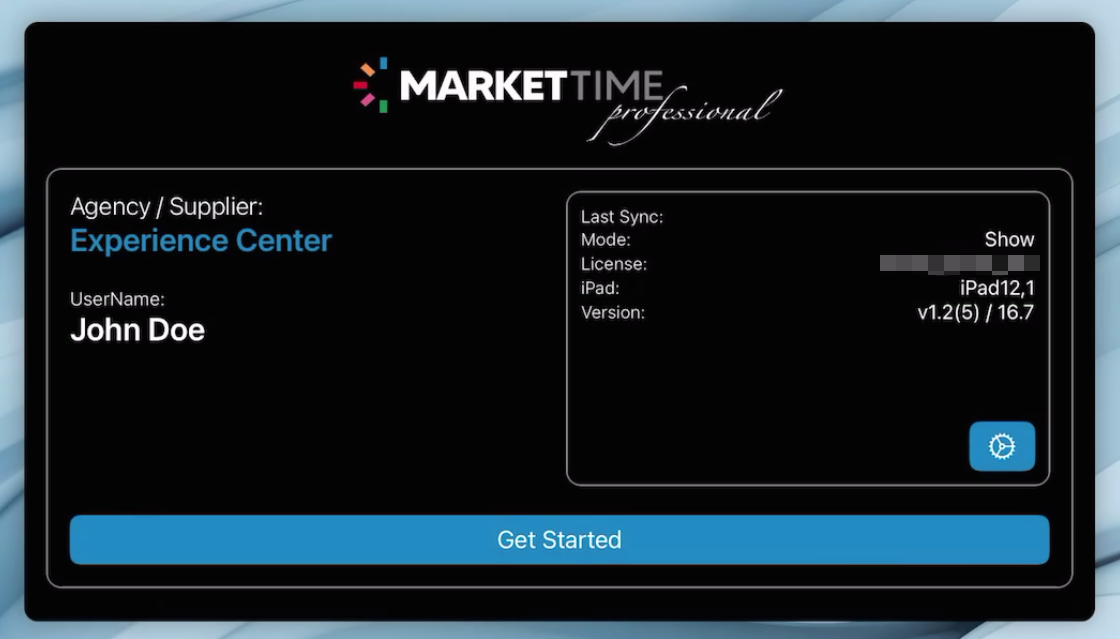 Switching Between Sales Agencies
Once you've synced your first Sales Agency, click your name in the top right corner and choose Logout / Switch User


Back on the informational screen, tap on the Agency Name shown to toggle to another Sales Agency you are associated with to download data or switch if you've already downloaded the data.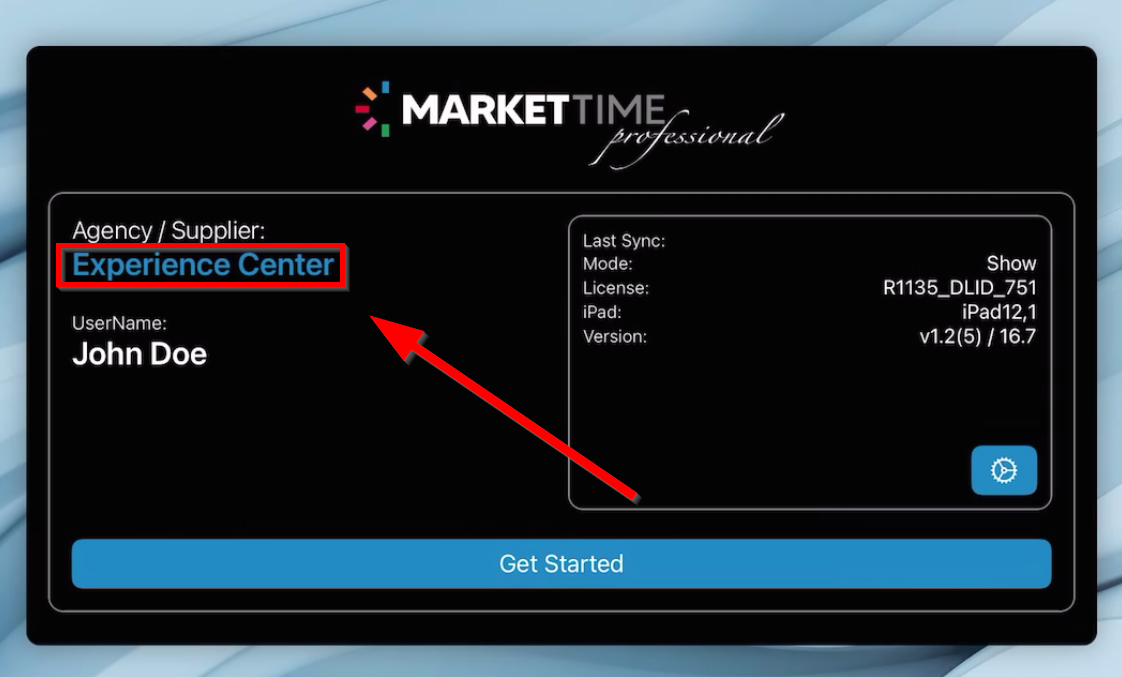 This will have you select the other Sales Agency and go through the Sync process. Once complete, you can log in, or use this same action to switch between them.


General Navigation
Once logged in, you're taken to the Home Screen. From here, you can access all sections of MarketTime Pro.

User Information/Default Settings
Using the "person" icon in the top right corner, you can view information such as your Username, App/iOS version, and more.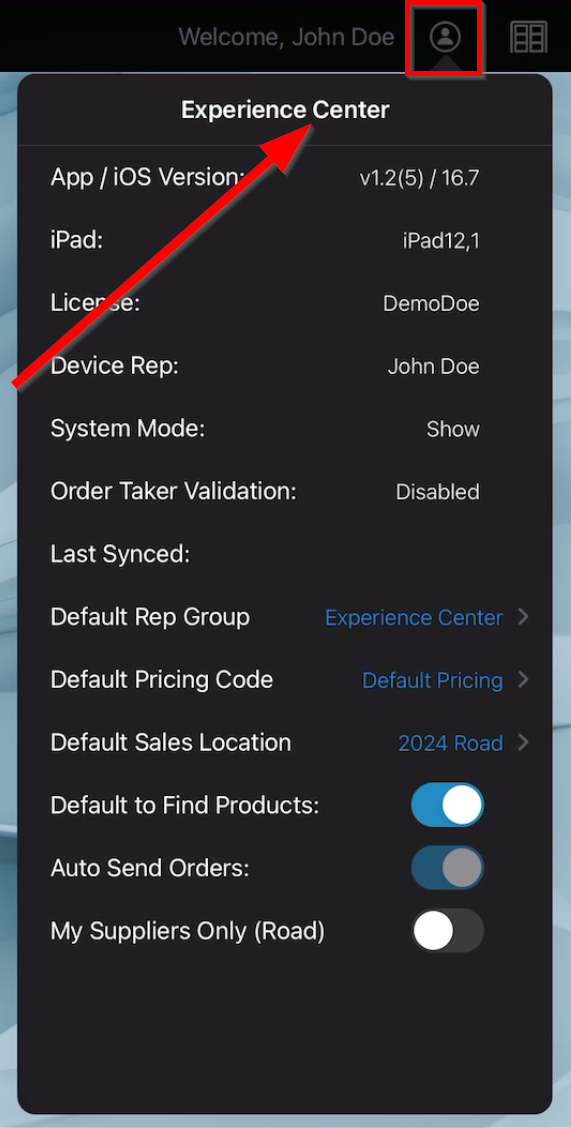 At the bottom are a few interactable options.
Default Rep Group - If your user account is associated with multiple Sales Agencies, you may choose which one the app loads into when opening it.
Default Pricing Code - WONT BE USED INITIALLY
Default Sales Location - This is the default Order Code that appears on all orders written in the app. This can be changed on a per-order basis when finalizing them if needed.
Default to Find Products - Toggling this option OFF will take you the SCAN screen rather than SEARCH when beginning an order.
Auto Send Orders - While this is toggled ON, orders that are Confirmed will be sent to the Manufacturer immediately if internet connection is available.
My Suppliers Only (Road) - Toggling this option ON will restrict your data to only what you're assigned if you're set to Show Mode by your admins.
Syncing the App
While the MarketTime Pro app is designed for you to be able to take offline as needed, the best experience is had while connected to the internet during use.

Some of your data syncs passively in the background as long as you're connected to the internet.

Customers - New customers added or updated in the cloud (https://apps.markettime.com) or from others' iPad apps.
Orders - As you Finish orders in the app, they will sync to the cloud (https://apps.markettime.com) for future use, or if you interact with an order that's been updated in the cloud, the updates will sync to your device. If you have Auto Send Orders enabled on your device, orders you Confirm will be transmitted to the Manufacturer at that time.
For all other pieces of data such as Products, Catalogs, Manufacturer information, etc., you must perform a manual sync to ensure your device is up-to-date.
To do this, tap on Sync Data on the Home Screen: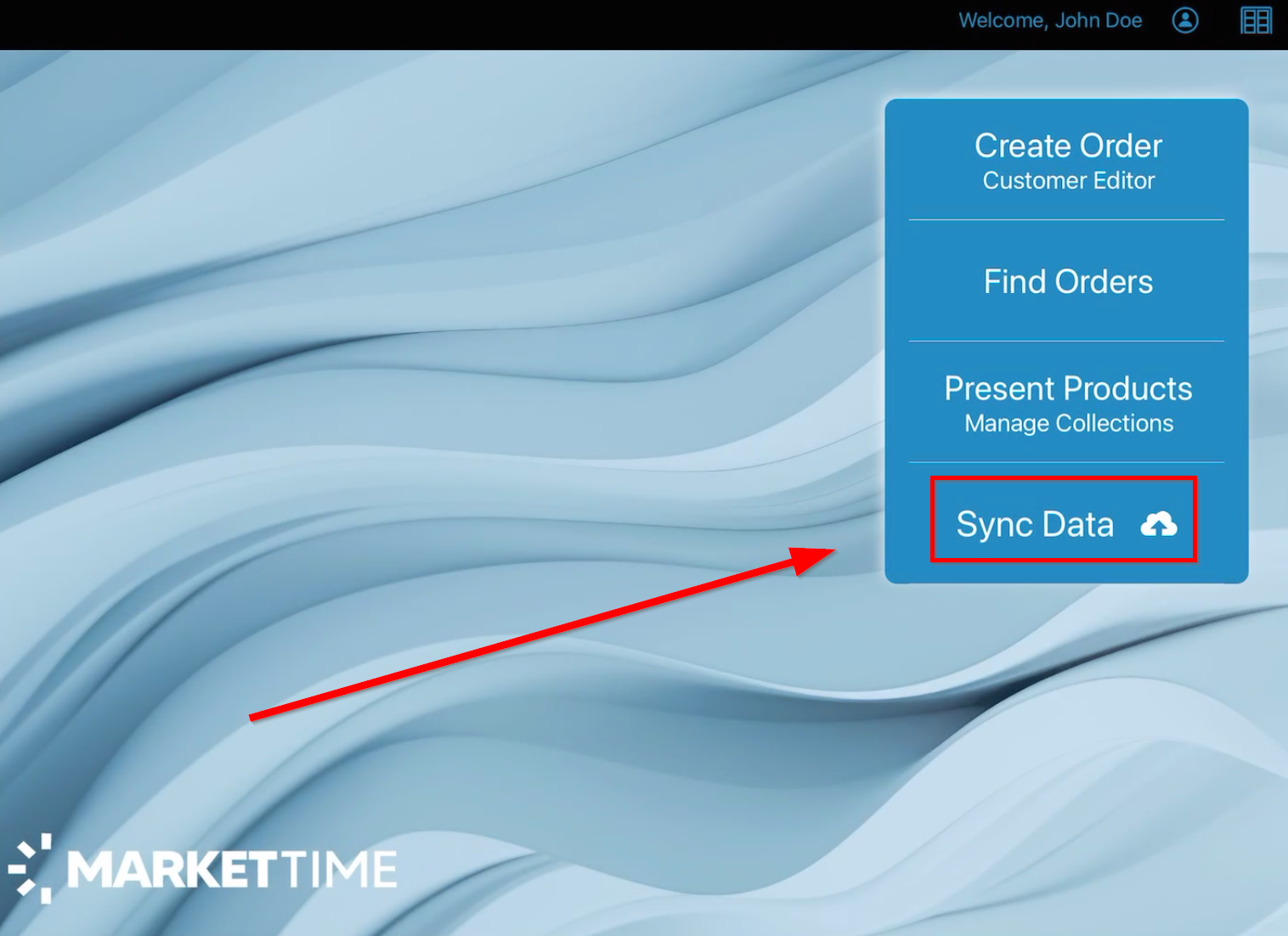 This will provide you with two options.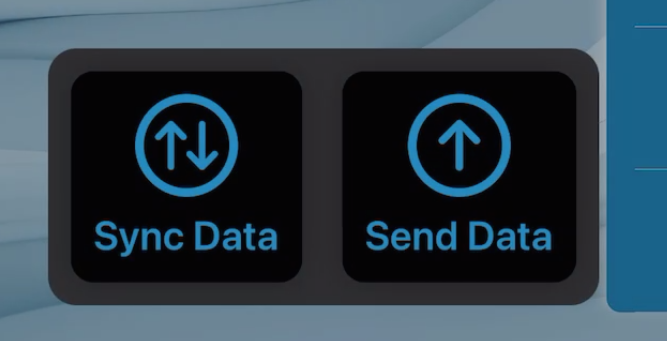 Sync Data - This will perform a bidirectional sync, pushing any updated data from your device to the cloud (https://apps.markettime.com) and pulling down any changes made in the cloud relevant to you (product updates, catalogs, etc.).
Send Data - This is a quicker option that just syncs the data that's been updated on your device to the cloud (https://apps.markettime.com). NOTE: This does not update your device with the latest products, catalogs, etc.).