For those who have PLUS subscriptions or higher, the Item Documents option found under Items gives you the ability to upload documents such as Catalog Books, Price Lists, and more.
---
What you'll learn
How to upload documents into MarketTime
How to create folders for your documents for better orginization.
---
TABLE OF CONTENTS
---
This feature is found on the Documents screen in the Navigation Menu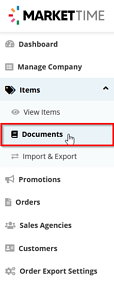 ---

Uploading Documents
You may begin by clicking the Upload button.

Here, you'll choose the File Name, the Document Type, and you can add a Description if you'd like.
When uploading a document, in addition to actually uploading your desired document (using the Select Document option), you can also choose a thumbnail to see when looking at your documents in Grid View (using the Thumbnail Image option).
The Show on Website option determines whether or not this is a document that should be available for Retailers to see on the various MarketTime B2B shopping sites. If this is set to No, then only the Salespeople can see that document.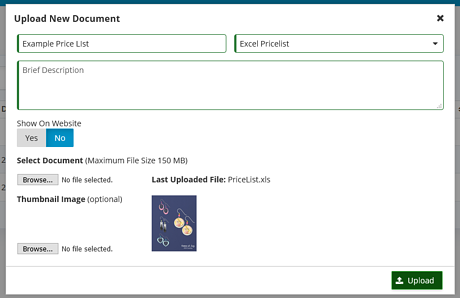 Toggling between Grid and List view can be done using the buttons found to the left of the Upload button:

While in Grid View, you can save the document to your computer by clicking the Download (1) icon when hovering over the document.
To copy a link to share with someone, click the Share (2) icon when hovering over the document.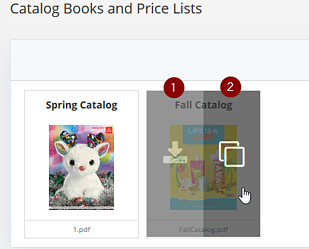 ---
Creating and Managing Folders

Folders may be created by clicking on the Catalogs Folder button:

Here you can create a folder with the Add Folder button.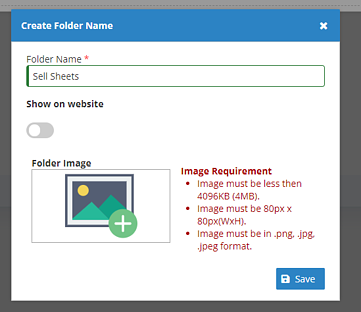 Name your folder, determine whether it should appear for retailers with the "Show on Website" option, and include an image for the folder if you choose.
Once complete, click Save.

Once your folder has been added, you can choose to add a sub folder, edit the existing folder, delete the folder, and add documents to the folder: