When your Manufacturers offer multiple prices, they may not always be "A, B, or C" prices, and instead have unique names, or names that may be more familiar to you and your Salespeople.
---
What you'll learn
How to re-label Price Codes that have been imported for your Manufacturer's items
---
Changing the name of each Price Code may be done on the Items tab within the desired Manufacturer.
Here you will find a Price Codes button:

Here you may re-label each Price Code to what you see fit, to assist you and your Salespeople.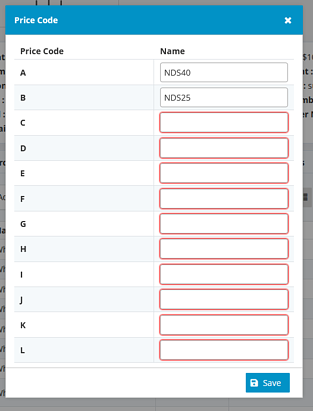 The maximum amount of characters a Price Code label may have is 5.
Once you've made your changed, click Save.
During the Order Entry process, you will now see your custom Price Code names: