The Retailer Flag was designed to assist in adding a note to a customer that can be added to any order written for that customer.
---
What you'll learn
How to create a Retailer Flag
How to use a Retailer Flag during Order Entry
---
Creating a Retailer Flag
To create a Retailer Flag, navigate to the desired customer. The Flag may be added/edited in the Notes card.


Alongside the customers general notes, the Flag Notes field is where you will enter in any information that you'd want to view during Order Entry, or add to an Order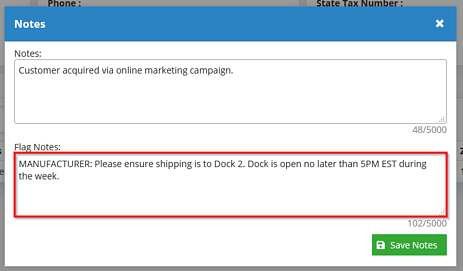 Once the note has been entered, click the Save Notes field to save it.
---
Viewing a Retailer Flag
The Retailer Flag may be viewed in a few places within MarketTime, the first being while browsing through customers.
If a customer has a Flag, there will be a "flag" icon next to their name:

Clicking on this icon will reveal it's Flag.
Any Flags created within MarketTime are available to view/use by anyone who has access to this customer within your company, and can potentially be seen on order copies when used.
The Flag may also be viewed during customer selection when beginning a new order, as well as within the Finalization screen of Order Entry.

---
Adding a Retailer Flag to an Order
To add your Retailer Flag to an order's Special Instructions field, simply click on the Flag icon found on the Finalization screen, as shown above.
Using the Copy to Instructions button found when viewing the Flag will add it to the Special Instructions of the order.