Salesperson Quick Reports are designed to give you as much information at-a-glance as possible, without making you run full reports to find something simple about your Salespeople.
---
What you'll learn
How to run a Salesperson Quick report
How to export a Quick Report
---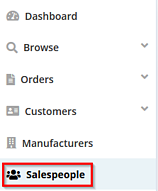 Start by navigating to the Salespeople option on the Navigation Menu.
---
The icons on the far right of each Salesperson are the Salesperson Quick Reports.

This report allows you to see basic information for Last Year To Date, Last Year Total, Year To Date, the difference between this and last year, and the last time they ordered.

You may also toggle between seeing information by Retailer, or Manufacturer:

The Show All button allows you to toggle between the default option of seeing only orders within the last calendar year, and ALL sales for this customer.

The Select Export option allows you to choose how you'd like to Export this report if desired, prompting you to name the file before doing so.