In addition to general data management, MarketTime offers the ability to view/export Promotions for each of the Manufacturers you are assigned, assisting you in ensuring your customers receive the best deal.
---
What you'll learn
How to browse Manufacturer promotions managed by either the Manufacturer or Admin within your company
How to export Promotions in a few different formats
---
The Promotions option is found under Browse in the Navigation Menu.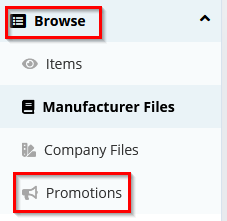 ---
Browsing Promotions

Search (1) - The Search field above the table allows you to search through the documents.
Advanced (2) - Use the Advanced option to be more specific in your searching.
Select Promotion Groups (3) - Filter by Promotion Groups available to you.
All Manufacturers (4) - Allows filtering by specific Manufacturer.
In addition, if you are a Salesperson for multiple MarketTime Sales Agencies, you can toggle between the Promotions available to you using the Rep Group drop-down.

---
Exporting Promotions
Similar to other screens, you may select Promotions to export to an Excel file if desired.

Additionally, you may run a report and export the list of Promotions within a Promotion Group by running the Specials, Line Lists, & Squares Reports (1.3) on the Reports & Statements screen.
You may choose to include only Promotions that are set to appear on your company's B2B e-commerce website, or all Promotions within the group using the Only Web Promotions toggle.
Finally if applicable, choose your Promotion Group using the Promotion Groups drop-down:

Run the report with the Run Report button to view the results.
The Select Export drop-down will allow you to export the Promotions in a few different formats, and the Print button will allow you to print it.