For those who have PLUS subscriptions or higher, the Promotions tab found on the left side of the screen allows you to add Promotions/Special offers for sales agencies who use MarketTime to use when writing orders.
---
What you'll learn
How to manage Promotions within MarketTime
---
This feature is found on the Promotions screen in the Navigation Menu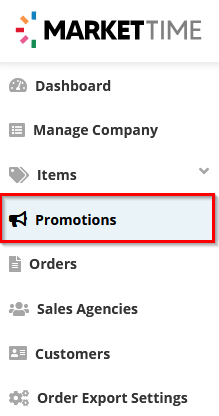 Clicking the New button allows you to fill out the information related to the promotion you're adding.

When adding your new promotion, you can title your promotion, set the dollar amount the order must meet in order to qualify (if applicable), set the Start and End dates of your promotion, add a Description, and add a Discount (if applicable) using either a dollar amount or percentage. Show on Website determines whether or not this is a Promotion that should be available for Retailers to see on the various MarketTime B2B shopping sites. If this is set to No, then only the salespeople can see that Promotion.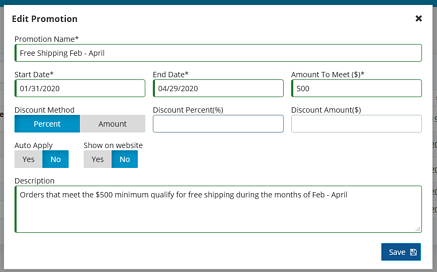 If your offer is currently active, it will be shown in the Active column as seen below:

You can Edit or Delete your existing Promotions using the Edit/Delete buttons to the right of that column.
Finally, you also have the ability to download your Promotions if needed, by clicking either the Export or Export All options.
This will generate a CSV file containing your Promotions.