Creating a new order for a customer that is not yours, or is Out of Territory is very similar to beginning a regular order, and MarketTime allows you to toggle between your customers as needed.
---
What you'll learn
How to toggle between your assigned customers and all customers within the company.
How to select a customer to begin an order for.
---
To begin writing an order, use the New Order option found under Orders in the navigation menu.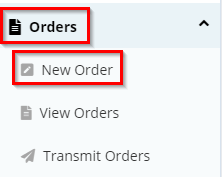 ---
SELECT A CUSTOMER
When selecting a customer, you'll see an Assigned/All toggle at the top of the window:

This allows you to toggle between seeing your own customers, and those within the company.
This feature only allows you to begin writing a new order for this customer, not view it's order history. You may update the customer as needed during the Order Entry process.
The rest of the customer search/selection process is the same as Creating a Line Item Order or a Summary Order.