The Seasons feature is typically used within the apparel industry, allowing groups to run reports based by Season for their orders.
---
What you'll learn
How to create Seasons in MarketTime
How to "tag" an order by Season
How to run reports based on Season
---
TABLE OF CONTENTS
---
This is found by clicking Seasons under Settings in the Navigation Menu.
Creating a Season
To begin, create a Season using the New Season button:

Here you will name your Season, add a short abbreviation, it's Start and End dates, and a description.
Once finished, click the Save button.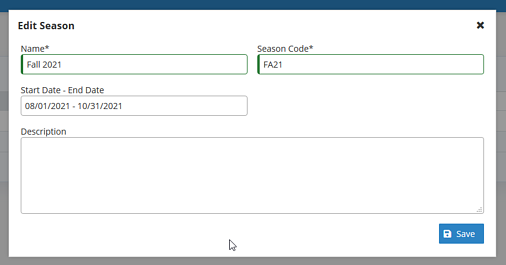 ---
"Tagging" an order with a Season
Found on the Finalization screen, you may use the Season drop-down to select the desired season for your order.

---
Reporting by Season
As you tag your orders by Season, you may use Season as a filter during the reporting process on all relevant reports: