Occasionally, you will find the need to merge two customers together due to duplicates that exist, out-of-business customers, or anything in between. MarketTime offers the ability to do this in the Customer Merge Tool.
---
What you'll learn
How to merge one customer into another.
---
TABLE OF CONTENTS
---
This feature is found on the Customers screen with the Transfer/Merge button found at the top of the list of Customers.

The act of transferring data/merging customer can not be undone. Please proceed with caution.
---
Merging Customers
Begin by clicking the Transfer/Merge button found on the right side of the screen:

---
Select Customers to Merge
Similar to the Manufacturer Transfer feature, you'll choose the customer that you will be moving data From and who the data will be going To using the corresponding fields in the window. Simply type in a name to begin searching.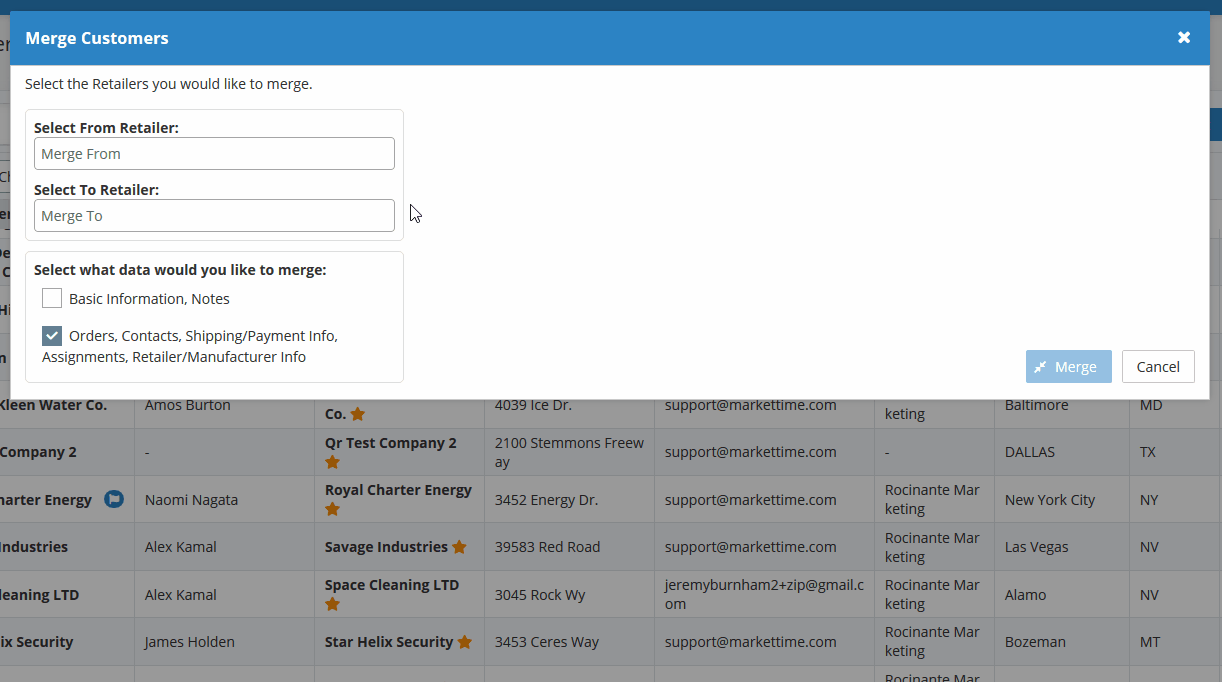 Once you've selected your customers, it will display basic information about each, giving you a general idea of the data that will be transferred.
---
Select Data to be Transferred
After selecting the From and To customers, you'll select the data you'd like to move using the options on the left side of the window. By default, basic information and order history are selected.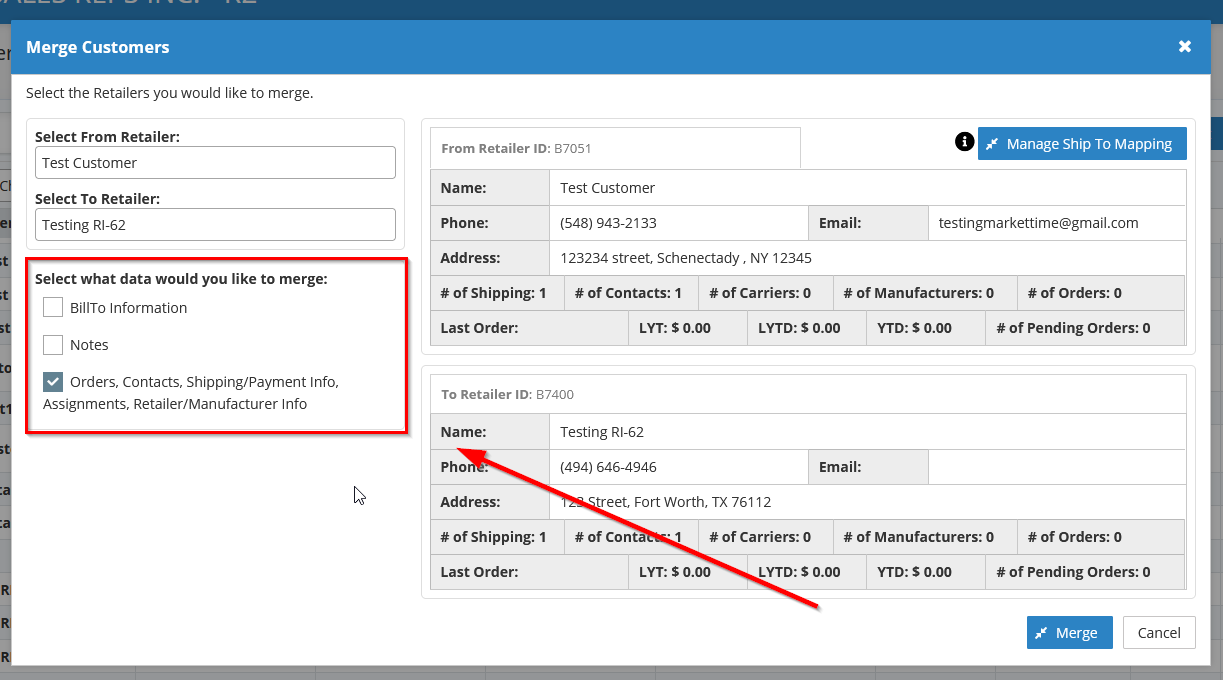 By default, all information except the From customer's Bill To information is selected.
Selecting the Basic Information option will overwrite your To customer's Bill To information with the From customer's Bill To information.
---
Managing Ship To Locations

After you've selected the To and From customers, you may manage their respective Ship To locations as well.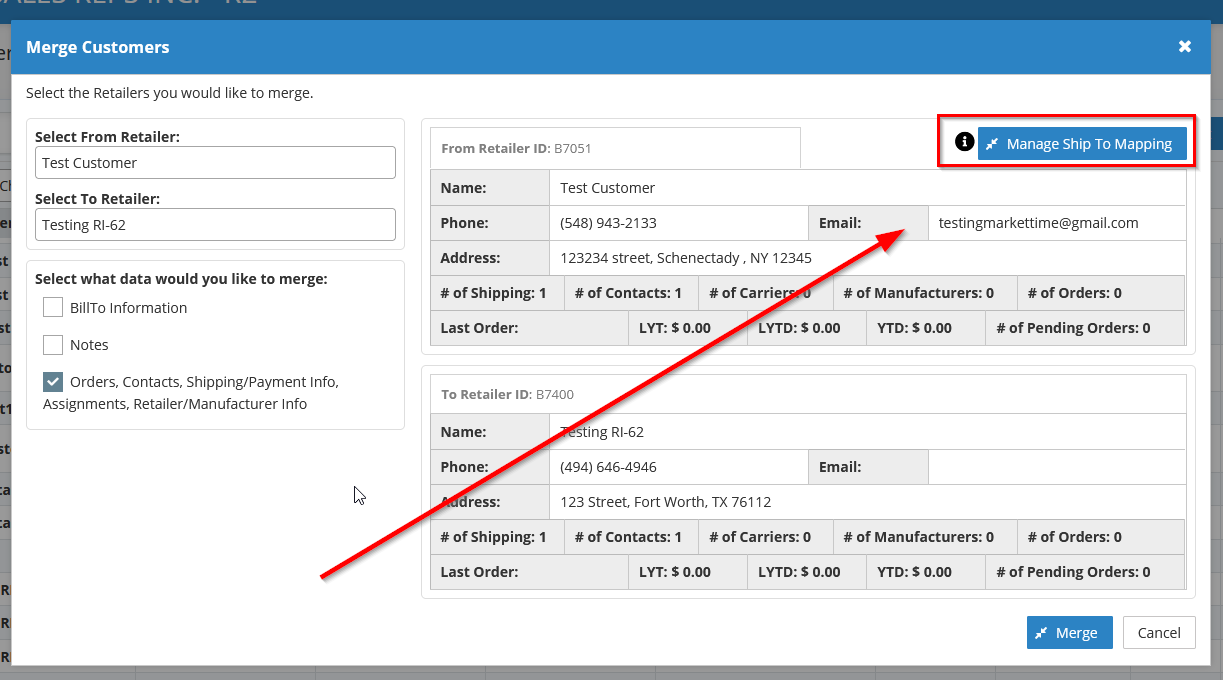 This allows you to consolidate Ship To locations in the event you're merging duplicate customers, and you want to avoid the merge resulting in the same Ship To location more than once.

Simply select the desired Ship To from the From customer, and map it to the To customer's desired Ship To location.
---
Perform the Merge
When ready to perform the merge and transfer the data you've selected, click the Merge button.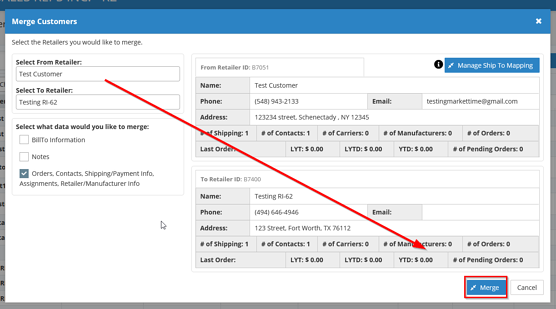 When clicking this button, you'll be asked to confirm the action once more. Click Yes to complete the merge.