In addition to general data management, MarketTime offers the ability to create and manage Promotions for each of the Manufacturers you manage, or view promotions your Manufacturers may have added.
Manufacturers on the BASIC (free) plan may only add up to 3 Promotions. Those on the PLUS subscription or higher have no limit to the amount of Promotions they may add.
---
What you'll learn
How to browse Manufacturer promotions managed by either the Manufacturer or Admin within your company
How to create Promotions
How to create Promotion Groups
How to export Promotions
---
The Promotions option is found under Browse in the Navigation Menu.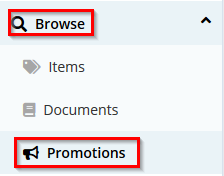 ---
Browsing Promotions

Search (1) - The Search field above the table allows you to search through the documents.
Advanced (2) - Use the Advanced option to be more specific in your searching.
Select Promotion Groups (3) - Filter by Promotion Groups you've created. To create Promotion Groups, view our guide on Creating/Managing Promotion Groups
All Manufacturers (4) - Allows filtering by specific Manufacturer.

Clicking the New button allows you to fill out the information related to the promotion you're adding.

Choose the Manufacturer you are adding the Promotion for, and fill out the required information.
If you've created a Promotion Group, you may select which group this Promotion should be included in.
Once complete, click the Save button to save the Promotion.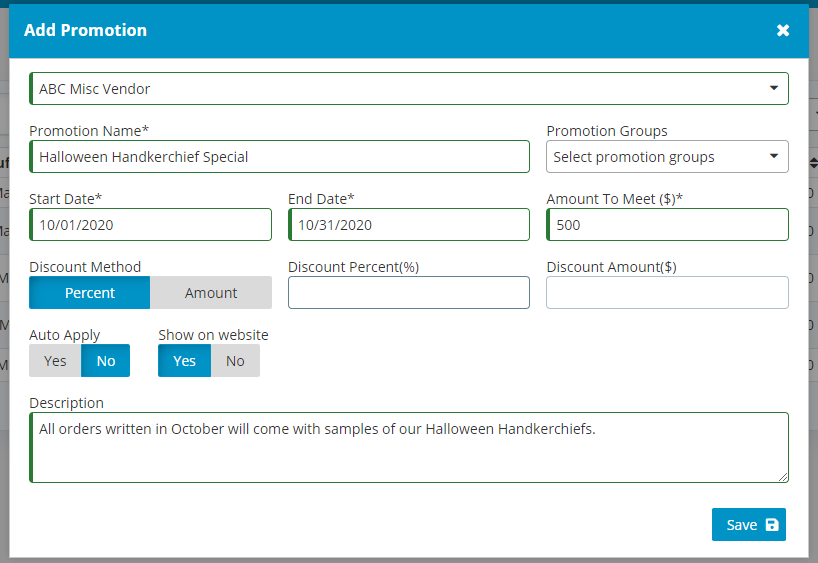 Orders you've added can be edited,duplicated, or deleted as needed using the corresponding buttons found to the right of each Promotion.

---
Promotion Groups

Found under Maintenance in the Navigation Menu, Promotion Groups are a way to group Promotions together for the benefit of your Salespeople/Sales Agency.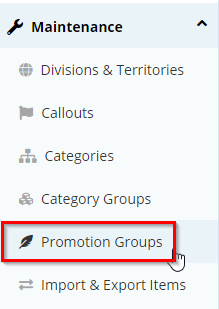 Begin by clicking Add to create a new Promotion Group

Name your new Group, add a Group Code, and a Description (if desired), then click Save to do so.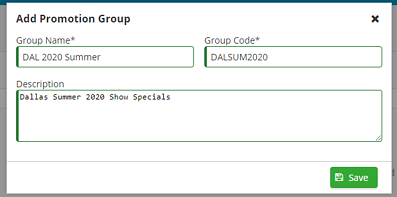 Once you've added your Promotion Groups, you can create new Promotions, and select the Group for which they apply during the process: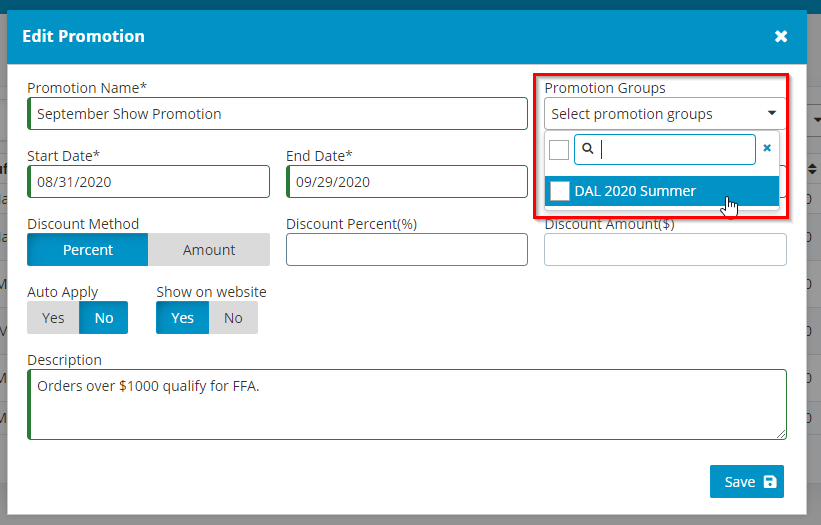 When browsing Promotions, the Select Promotion Groups allows you to just filter Promotions based on the Group you've created.

Exporting Promotions
You may run a report and export the list of Promotions within a Promotion Group by running the Specials, Line Lists, & Squares Reports (1.3) on the Reports & Statements screen.

You may choose to include only Promotions that are set to appear on your company's B2B e-commerce website, or all Promotions within the group using the Only Web Promotions toggle.
Finally if applicable, choose your Promotion Group using the Promotion Groups drop-down:

Run the report with the Run Report button to view the results.
The Select Export drop-down will allow you to export the Promotions in a few different formats, and the Print button will allow you to print it.