In addition to general data management, MarketTime offers the ability to upload documents for each of the Manufacturers you manage, or view documents your Manufacturers may have uploaded.
---
What you'll learn
How to browse Manufacturer documents uploaded by either the Manufacturer or an Admin within your company
How to upload documents for any given Manufacturer managed by your Company
How to download or share Manufacturer documents
---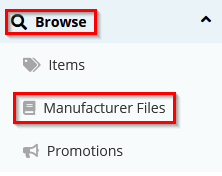 The Manufacturer Files option found under Browse in the Navigation Menu will allow you to view these features.
---
TABLE OF CONTENTS
---
Adding New Manufacturer Documents
Found by navigating to your desired Manufacturer from the Manufacturers screen, the Documents tab
works similar to the Browse Documents screen, and allows you to upload documents relevant to this Manufacturer such as Catalogs, Sell Sheets, Price Files, and Credit Applications. When uploading, you have the ability to choose whether or not they'll appear just for your reps, or on your B2B Website as well with the "Show on Website" toggle.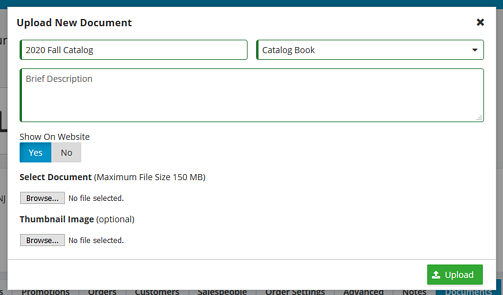 ---
Browsing Documents

Search (1) - Allows you to search through your orders with a variety of criteria (such as an item's Item #, Name, UPC, or Category)
Advanced (2) - Allows you to refine your search.
Manufacturer Filter (3) - Allows you to filter by a single Manufacturer.
View Toggle (4) - Switch between List, List with Thumbnail, and Grid view.
While in Grid View, you can view the document within the Portal in a popup window by using the View (1) icon, save the document to your computer by clicking the Download (2) icon when hovering over the document.
To copy a link to share with someone, click the Share (3) icon when hovering over the document.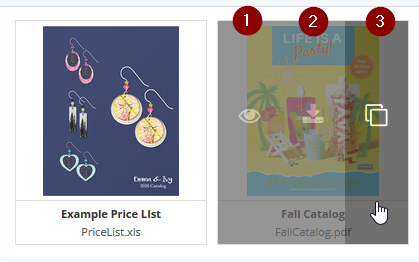 These actions may also be performed in List view as well. Files that can be viewed (PDF files) can be viewed using the Eyeball icon.

In addition, you can Delete documents you've uploaded by using the red Delete button:

---
Editing Manufacturer Documents
For documents that you have uploaded, you are able to edit existing settings for documents by clicking the "Edit Document" Pencil icon from the section above.

You can change all of the final settings that you choose when uploading the document to MarketTime. For example, if you wish to disable a retailer's ability to see this catalog on a B2B site -- you could change the "Show On Website" toggle to "No" and click "Upload" in the bottom right corner to finalize your changes.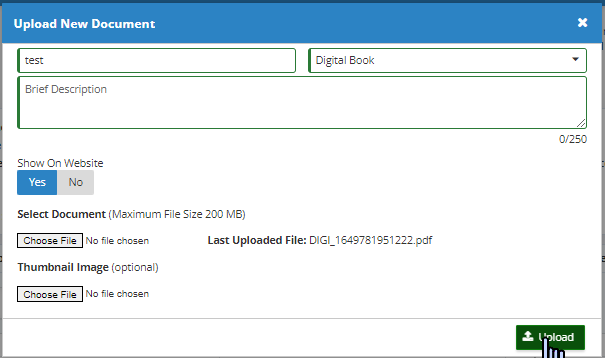 You may not upload documents for Manufacturers who are managing their own information.
Manufacturers on the PLUS plan or higher are able to upload documents into MarketTime for you to view/use.