In times where the need arises to add or deduct adjustments from Salespeople that don't fall under the traditional Invoicing, MarketTime offers a way to add miscellaneous adjustments independent of invoices.
---
What you'll learn
How to create miscellaneous adjustments for Salespeople.
Where to see miscellaneous adjustments after they've been added to MarketTime
---

Miscellaneous Adjustments may be added on the Adjustments screen, found under Order Payments in the Navigation Menu.
---
Adding a Miscellaneous Adjustment
On the Adjustments screen, click the Add button to begin adding an adjustment.

In the resulting window, select the Salesperson (1), Commission Pay Date (2), and amount to be added or deducted (3).
The Memo field is a way to jot down any notes related to this adjustment (4).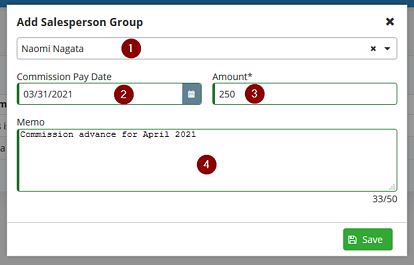 When finished, click Save.
---
Viewing Adjustments
Adjustments appear at the bottom of Salesperson Commission Statements that may be ran at any time, or during Step 2 of the Pay Salespeople process.