In cases where you need the ability to transfer a Manufacturer's order history from one Manufacturer to another, the Transfer Tool will help you accomplish the task.
---
What you'll learn
How to transfer Manufacturer order history from one Manufacturer to another
---
On the Manufacturers page, begin by clicking on the Transfer button above your Manufacturer list:

In the resulting window, you will choose which Manufacturer the data will be coming from and who it will be going to.
Checking the Transfer Account Numbers checkbox will also move any Bill To/Ship To account numbers for any associated customers.
To continue, click the Transfer button.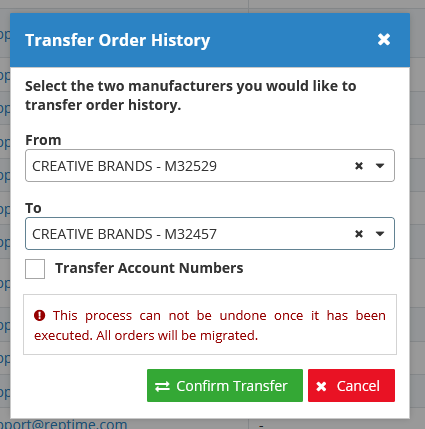 You will be asked to confirm the transfer.
This action can not be undone. Please be sure you've selected the correct Manufacturers in the correct order.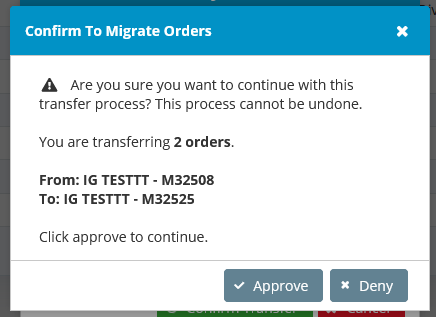 Once the transfer is complete, you will have three options to choose from.
Keep Both - This will leave the copy of the Manufacturer with no order history untouched, and will still remain in your Manufacturer list.

Delete & Close - This will delete the Manufacturer you've removed order history from. THIS ACTION CAN NOT BE UNDONE!
Deactivate & Close - This will un-link the vendor-manged Manufacturer account from your company, leaving only your "copy".