In addition to the ability to duplicate orders within MarketTime, you may also duplicate orders to members of the same Parent Chain for efficient order entry.
---
What you'll learn
How to duplicate an order to other members of a Parent Chain
---
When finalizing the original order, click the Save & Finish button found in the bottom right corner of the screen.

If the order's customer is a member of a Parent Chain, you'll be asked if you'd like to duplicate:

Clicking YES will display a window allowing you to choose which orders during that session you'd like to duplicate (1), and which customers you'd like to duplicate them for (2).

Select your desired orders and customers using the associated check boxes, and move the customers to the Selected Customers box to confirm the selection.
If your customers have multiple Ship To locations, you may use the drop-down next to each Bill To to select them.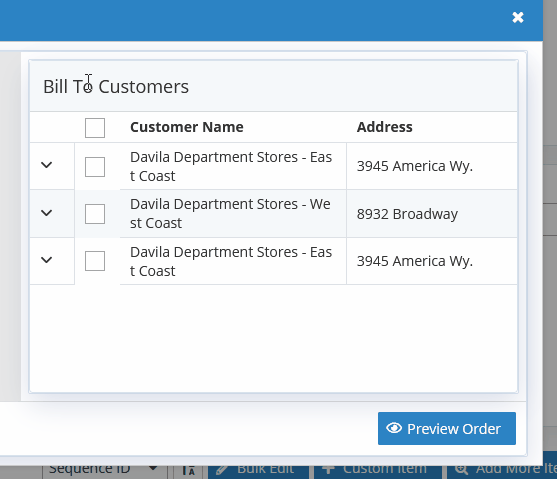 Once your customers are in the middle section, you may click the Preview Order button to preview the results:

The final window that appears allows you to confirm your duplications (which includes the original orders), and edit the PO numbers for each using the "pencil" icon: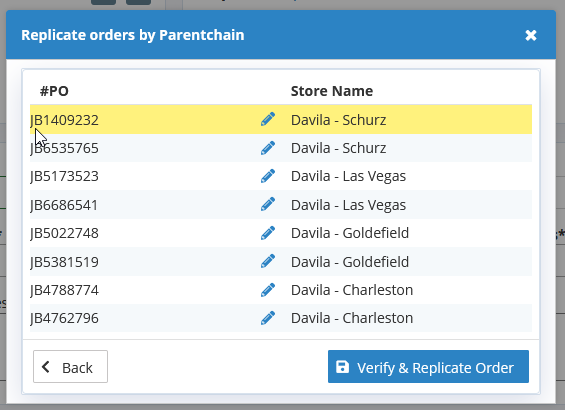 Once complete, click the Verify & Replicate Order button to finish the process.