In addition to general data management, MarketTime offers the ability to view uploaded documents for each of the Manufacturers you are assigned.
---
What you'll learn
How to browse Manufacturer documents uploaded by either the Manufacturer or an Admin within your company

How to download or share Manufacturer documents
---
The Manufacturer Files option found under Browse in the Navigation Menu will allow you to view these features.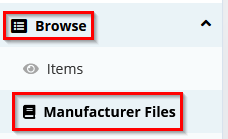 Search (1) - Allows you to search through your orders with a variety of criteria (such as an item's Item #, Name, UPC, or Category)
Advanced (2) - Allows you to refine your search.
Manufacturer Filter (3) - Allows you to filter by a single Manufacturer.
View Toggle (4) - Switch between List, List with Thumbnail, and Grid view.

In addition, if you are a Salesperson for multiple MarketTime Sales Agencies, you can toggle between the Documents available to you using the Rep Group drop-down.

While in Grid View, you may view the document by clicking the View (1) button, save the document to your computer by clicking the Download (2) icon, or copy a link to share with someone, click the Share (3) icon when hovering over the document.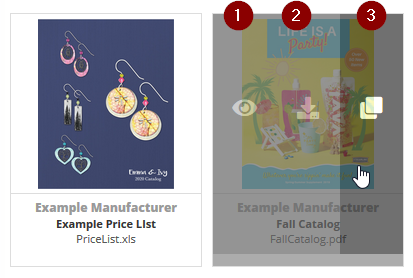 This can also be done while in List view as well: