For Manufacturers on the Basic subscription or higher, tokenized credit cards are available for your secure retrieval.
The Basic subscription is only availably for use with mtCharge.
For more information about Plus and what MarketTime can offer, please reach out to sales@markettime.com
Differences between Order Delivery Basic and Order Delivery Plus
| | | |
| --- | --- | --- |
| | Order Delivery Basic | Order Delivery Plus |
| Order History | 3 months | All previous order history |
| CC Processing | mtCharge only | mtCharge or applicable third-party gateway |
| CC Pre-authorization | Not available | Available with mtCharge or applicable third-party gateway |
| Price | Free with use of mtCharge | $375 per year |
=======================================
NOTE: If you do not have a Hosted PCI account to retrieve CC tokens, follow the steps shown on your Dashboard (shown below), or navigate to https://overview.markettime.com/hpci-gateway-form and fill out the form to submit your information for an account to be created. This typically takes 1-2 business days.

=======================================
=======================================
Begin by clicking the corresponding CC button next to the desired order on the Orders screen:

This will let you retrieve a token for the credit card on the order. You can copy this token to your clipboard (1).
NOTE: If you're utilizing a third-party credit card gateway, your CC token will appear and can be copied from here instead of using Hosted PCI.
(2) Navigate to the Hosted PCI portal to detokenize and view the card in it's entirety.
NOTE: This option will not appear if using a third-party credit card gateway.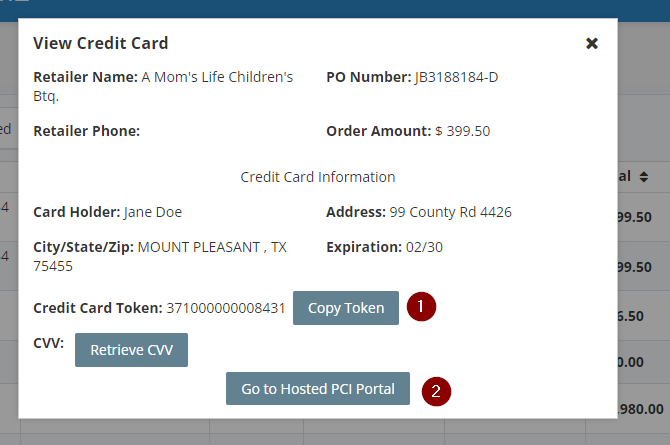 When clicking the Go to Hosted PCI Portal, click Login and enter in your Username and Password for the HostedPCI Portal.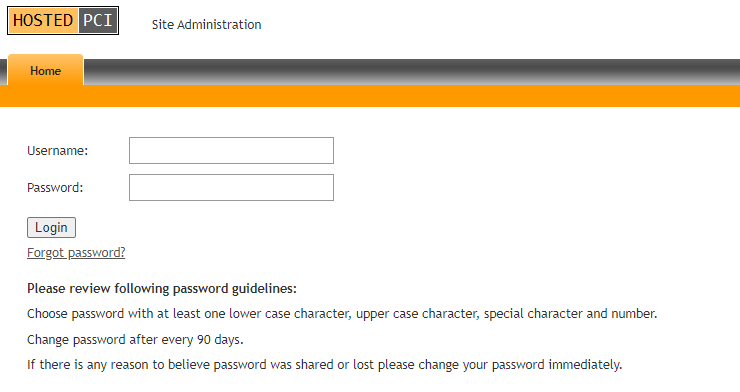 Hover your mouse over the CC Admin option and click View CC:

Paste the card token you copied from MarketTime into the Enter Mapped CC Num field, and enter in the verification numbers in the field below:
The credit card will be displayed in it's entirety:
Additional information
If you have multiple orders needing the payment processed, the Hosted PCI screen can be left open and you will just need to get the proper tokens for each order from MarketTime.
Only 10 cards can be obtained within an hour. This is a limitation in Hosted PCI and is this way for them to maintain compliance.
=======================================
Retreving the CVV (security code)
The CVV of a card (if provided by the Salesperson) can be retrieved in MarketTime: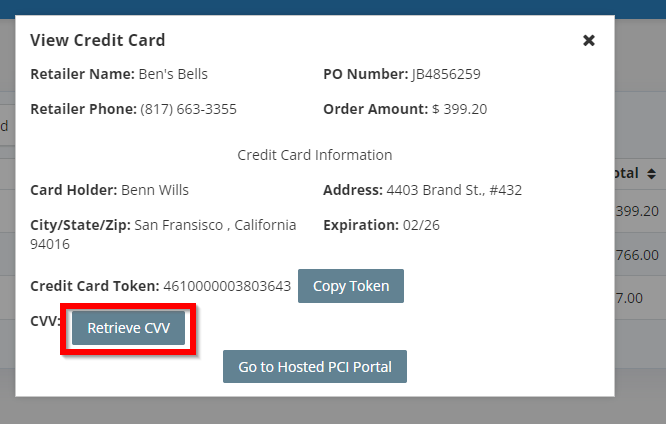 NOTE: Once the CVV has been retrieved, it is no longer available.