Adding new Salespeople within MarketTime is simple, and allows your new Salespeople to easily fill out their own information and create their username and password.
---
What you'll learn
How to create a new Salesperson
How to set a Salesperson's initial default Commission rates
How to assign Manufacturers to your new Salesperson
---
To add a new Salesperson, use the New button found on the Browse Salespeople screen.

---
Adding a Salesperson
When adding a new Salesperson, enter in their name or Salesperson ID (provided by the Salesperson) into the Search field.
If the Salesperson is already using MarketTime, they will show up as an option, with a Salesperson ID next to their name.
Choosing that entry will allow you to add them to your Salespeople, which will then send a request to that Salesperson to approve. Some information will not be editable as it's managed by that Salesperson.
If adding a Salesperson that does not use MarketTime already, click the Add... button to add them manually.

---
General
Start by entering in the Salesperson's basic information.
Some of this information will not be editable if adding a Salesperson that is already a member of MarketTime.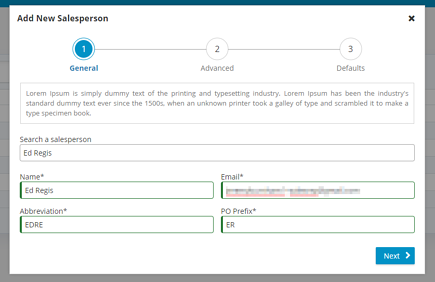 ---
Advanced
Here you will assign a Territory and Division to the Salesperson. The Territory can be left alone to be assigned at a later time if you wish, but the Division is required to proceed.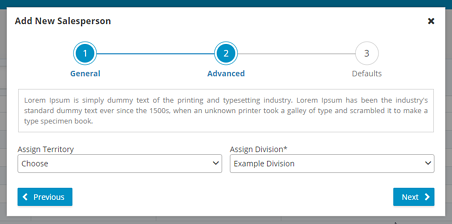 ---
Defaults
The Defaults window will have you choose the Commission Rate for each Order Code, for each Manufacturer you will assign to this Salesperson. By default it selects all Order Codes and Manufacturers, but this can be changed using the drop-down menus and choosing your desired information.

After selecting the various options, enter in the Commission Rate, then press the plus (+) button to add them to the Salesperson.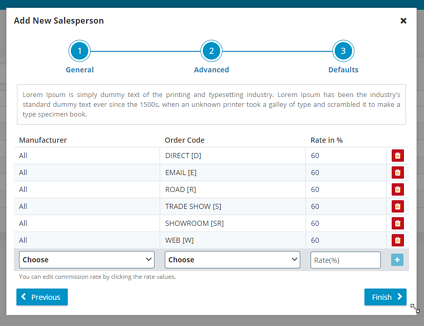 This information can be changed in Salesperson Maintenance as needed.
When finished, click the Finish button, and the Salesperson will be added to the list of Salespeople, and an invite to join MarketTime will be sent to the email designated in Step 1.